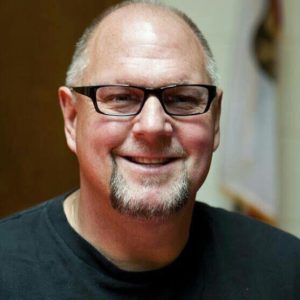 July 20, 1958 – June 1, 2018
Steve Penna was a lifelong Redwood City resident and had been active in the community his whole life. He was one of six children born to Louie and Georgia Penna. All are graduates of Sequoia High School in Redwood City.
After graduation he attended Canada College as a Theater Arts major.
He had served on dozens of non-profit boards and was one of the original members of the Board of Directors of the Redwood City Police Activities League (PAL), and the original President of the Sequoia High School Education Foundation for the Future, the Service League of San Mateo County, and Canada College – Small Business Development Advisory Board.
As Chairman of the efforts to restore Carrington Hall – on the Sequoia High School campus in Redwood City, Penna participated in all aspects of the project and fostered community support to secure the $11.5 million needed to turn the Auditorium into a top notch Performing Arts Center for San Mateo County.
Penna also was instrumental in raising thousands of much needed dollars for the Canada College Theatre Arts department by hosting a yearly community fundraiser.
Penna had been named Child Advocate of the Year for San Mateo and Santa Clara Counties, and volunteers for the Fair Oaks Neighborhood Association, Redwood City/San Mateo County Chamber of Commerce, St. Pius Youth Ministry, Sequoia YMCA, Peninsula Celebration Association, St. Raymond's School, San Mateo Community College District Foundation, Optimist Club of Redwood City and the Redwood City Firefighters Create-a-Smile organization.
Working as a self-employed Marketing and Advertising Consultant – Penna worked with several local and regional businesses including the San Mateo Daily Journal, Patch.com, Peninsula Media, Coldwell Banker and the American Broadcasting Company (ABC).
Penna and the Spectrum Magazine had won various journalism awards including the San Francisco Bay Area Press Club award for News Story of the Year, FIRST PLACE: "Police Shut Down DUI Checkpoint," Story of Serious Nature. His column "As I was saying . . ." had also won various First Place awards through the years.
While being awarded the "Businessman of the Year" by the Redwood City Chamber of Commerce, United States Senator Jerry Hill declared Penna "Mr. Redwood City." The title had stuck with him throughout the years.